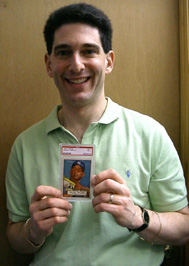 Mark Rubin, one of the two principals of American Legends, is celebrating his 37th year in the baseball card industry.
In 1979, as a precocious 12 year old, Mark read the entire Sport Americana Baseball Card Price Guide and was fascinated that cards he had tossed out three years earlier were actually worth something.
Later that year, he attended his first baseball card show and made his first mail order purchase, a 1954 Topps Hank Aaron rookie card for the tidy sum of $50. In the coming years, Mark had the opportunity to meet some of his biggest sports heroes including Willie Mays, Tom Seaver, Bobby Orr, Muhammad Ali and Ted Williams.
Between 1979 and 1990, Mark assembled perhaps the finest collection of Tom Seaver cards and scarce issues in the country, numbering almost 500. Mark also owned complete runs of Topps hockey sets from 1954 to 1975, a complete collection of New York Mets Topps cards, Mets yearbooks and tickets dating back to 1962.
In 1982, Mark got his first job in, of course, a baseball card store. He would continue working there during high school and his college summer vacations. After graduating SUNY Albany in 1987 with a business degree, Mark became the general manager of the store.
Mark would travel throughout the U.S. and Canada on major buying trips acquiring the finest vintage sports cards to keep the store well stocked. He would also write card collecting and investing articles for Baseball Update & Market Report.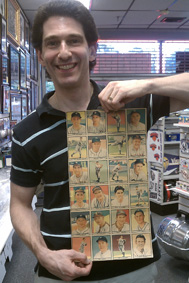 In 1992, when the opportunity arose to open their own business, Mark & his wife Donna founded One If By Cards, Two If By Comics. Since 1992, American Legends (formerly One If By Cards, Two If By Comics) has been the destination for New York-area sports card and memorabilia collectors.
In his career, Mark has purchased, sold and auctioned numerous spectacular vintage baseball card collections including the six-figure Tallahassee Collection featured in the New York Times in 2001. In 2004, Mark purchased a complete run of Topps Baseball sets from 1951-2000, including the landmark 1952 Topps set with a PSA 7 Mickey Mantle rookie. Mark's most recent prized acquisitions were a pair of uncut 1941 Play Ball sheets (one containing Joe DiMaggio, Lefty Gomez and Pee Wee Reese), a great run of vintage hockey sets including the C57, V304, Ice Kings and C144 Champs and a collection of over 200 N172 Old Judge Baseball Cards from 1887.
It has also been rumored that Mark has heard the phrase 'My mom threw out my baseball cards' more than anyone else in the world.