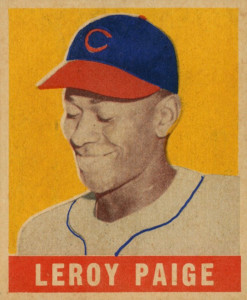 The 1948 (1949) Leaf Baseball set is one of the most difficult and costly post-World War II sets to complete.
Released just after the integration of Major League Baseball, the 1948 Leaf series contains the rookie cards of the first three black baseball players in the big leagues; Jackie Robinson, Larry Doby and Satchel Paige.
The Paige rookie is the most-valuable base card produced in the last 75 years of any player not named Mickey Mantle. The Jackie and the Doby cards are no slouches either in value; both are worth in the thousands.
The set remains a bit of a mystery even today. First of all, it still remains unclear if the set is was issued in 1948 or in early 1949. Some baseball card industry sources refer to it as the 1948 Leaf Baseball series while other call it the 1949 Leaf Baseball.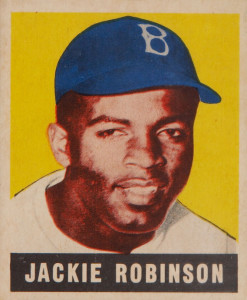 Numbered from 1 through 168, there are numerous missing cards from the checklist. Speculation is, that this was either a ruse to have consumers chase non-existent cards, or a result of Bowman signing away many of the skip-numbered players for their 1948 Bowman Baseball release.
Ultimately, only 98 different cards were produced, with 49 of them being short printed and extremely challenging for any collector to find.
Despite missing 70 cards from their checklist, when it comes to player content, the truncated Leaf set packs a wallop.
Six of the first seven Leaf cards are significant: #1 Joe DiMaggio, #3 Babe Ruth, #4 Stan Musial rookie, #5 Virgil Trucks short print rookie card, #8 Satchel Paige rookie card and short print and #11 Phil Rizzuto rookie.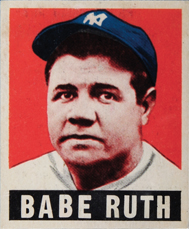 The DiMaggio is the last card produced during his playing career by a major manufacturer as Joe never appeared in any Bowman or Topps releases.
With Ruth's death in August of 1948, the appropriately numbered card #3 has always been a sentimental (and very valuable) favorite. The close up of The Bambino with Babe Ruth in block letters below is a pop culture masterpiece.
In fact, the DiMaggio, Ruth, Musial and Paige are all worth over $2,000 in Near Mint condition, quite a hefty sum for any post-war trading card.
The remainder of the set is very strong as well. Besides the Hall of Fame rookie cards of Jackie, Paige, Musial, Doby & Rizzuto, the Leaf series also contains the rookies of George Kell (short print), Johnny Pesky (short print), Enos Slaughter (short print), Hal Newhouser (short print) and Ralph Kiner. The series also contains a popular card of naval aviator and Red Sox hit machine Ted Williams and a tough short print of fireballer Bob Feller.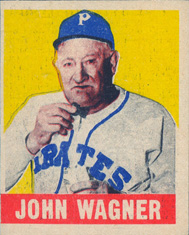 Perhaps the most thought-provoking card in the set is #70, Honus Wagner. The prevailing wisdom holds that Wagner had objected to being included in a tobacco card set (specifically the famous T206 White Borders) because of the negative impact it would have on children. However, on Wagner's 1948 Leaf card, the Pirate coach is pictured with a giant gob of chaw in his mouth and the open tobacco pouch in his left hand.
At $40,000 for a Near Mint complete set, the 1948 Leaf trails only the 1952 Topps Baseball as the most expensive set released in the past 75 years.
If you have any 1948 (1949) Leaf baseball cards (either sets, singles or an accumulation) to sell or any items on our baseball buy list, PLEASE CONTACT Mark Rubin at 914-725-2225 or via email at mark@amerlegends.com. A quick phone call is all it takes to get started.