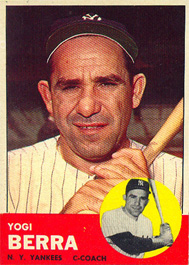 1963 was a glorious year for baseball. The World Series featured the first Yankees/Dodgers matchup since the Bums moved out of Brooklyn. Sandy Koufax and Elston Howard won the National & American League MVP awards while wearing jersey #32. And Topps issued its most desirable set of the entire decade.
The 1963 Topps Baseball Card Set contains 576 cards divided up into seven series. It's one of the unusual instances where the semi-high numbered 6th series (#447-522) is considerably scarcer to obtain than the high numbered 7th series (#523-576).
Topps' design is a winner. The fronts featuring multiple images of the player; a closeup in a solid color circle on the bottom right and either a portrait or action shot as the main photo.
Topps would wait another 20 years before reviving this classic combination for their 1983 Topps release. On the backs, Topps returned to their habit of providing complete career player statistics.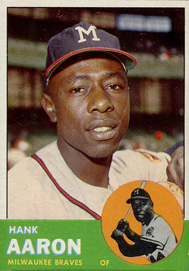 Unlike the previous year, when Topps struggled with out-of-register and blurry photography, the 1963 photos really pop. Most of the star cards are more valuable in this year than other years (even those not in the semi-high or high series); in particular, the Willie Mays, Hank Aaron, Sandy Koufax, Whitey Ford, Yogi Berra, Mickey Mantle and Ernie Banks.
One reasonable explanation is the condition-sensitive nature of the set replete with beautiful color bottom borders with chip very easily. Finding a 63 Topps card in Near Mint condition is fairly difficult, but when you do, the bottom colors make the eye appeal of the card striking.
1963 Topps possesses a strong checklist of stars and superstars that easily squash their 1963 Fleer competition. Mantle, Aaron, Berra, Ford, Banks, Stan Musial, Roger Maris, Frank Robinson, Ed Mathews and Al Kaline appear in only the Topps release. In the semi and high series, Harmon Killebrew (short print), Willie McCovey, Lou Brock and Duke Snider are all tough gets who don't have a 63 Fleer cards.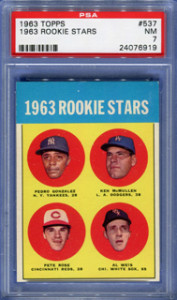 The most sought-after and expensive 1963 Topps card is #537, the 1963 Rookie Stars card of Pedro Gonzalez, Ken McMullen and Al Weis. Did I mention that these three share the card with the most controversial ballplayer of the last 50 years, Pete Rose? Love him or hate him (and there's usually no in between) Pete Rose is the most polarizing and popular rookie card of the 1960s. A Near Mint Rose rookie is the only $1,000 baseball card in any regular Topps release of the decade.
Rose isn't the only Hall of Fame rookie in the set as the 1963 Topps also boasts Willie Stargell on card number 553. Along with the two monster rookies and superstar selection, the set has many other things to offer.
The first New York Mets team card and the first Marvelous Marv Throneberry Met card make their debuts along with the rookies of Rusty Staub, Tony Oliva and NBA Hall of Famer, and one-time White Sox prospect, Dave DeBusschere.
Topps also went to extraordinary lengths to jam as many extra superstars into the set in their popular combo cards. The multi-player cards are a huge asset of the 1963 Topps, with cardboard classics such as; Bombers' Best (Mickey Mantle, Tom Tresh & Bobby Richardson), Pride Of N.L. (Willie Mays & Stan Musial), Power Plus (Ernie Banks & Hank Aaron), Buc Blasters (Roberto Clemente, Smoky Burgess, Dick Stuart & Bob Skinner), Dodgers' Big Three (Sandy Koufax, Don Drysdale & Johnny Podres) and Friendly Foes (Duke Snider & Gil Hodges).
Give Topps credit for making the 1963s a fan-friendly set which still endures with baseball card collectors.
If you have any 1963 Topps baseball cards (either sets, singles or an accumulation) to sell or any items on our baseball buy list, PLEASE CONTACT Mark Rubin at 914-725-2225 or via email at mark@amerlegends.com. A quick phone call is all it takes to get started.