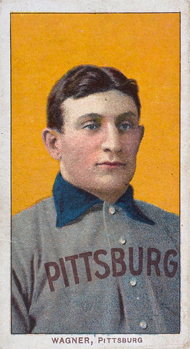 The name Honus Wagner has been synonymous with baseball cards for over 100 years.
After all, the most famous baseball card in history is the iconic T206 White Border of The Flying Dutchman.
Even in the worst condition imaginable, the T206 Wagner sells for well over $200,000 with the highest grade example topping out at a cool $2.8 million. Produced in 1909 by the American Tobacco Company, the T206 Wagner was pulled from production after a small initial release.
According to legend, Wagner objected to being included in a tobacco card set because of the negative impact it would have on children. However, those familiar with Wagner's 1948 Leaf card #70, will recall the image of the Pirate coach with a giant gob of chaw in his mouth and the open tobacco pouch in his left hand.
Current estimates suggest that as few as 50 of the T206 Wagner card are still in existence.
Lost in all the talk about his iconic baseball card is the fact that Wagner may have been the greatest shortstop to ever play the game. In 1936, Wagner was inducted into the Baseball Hall of Fame as one of its prestigious first five members. He joined fellow inaugural inductees Ty Cobb, Babe Ruth, Christy Mathewson and Walter Johnson.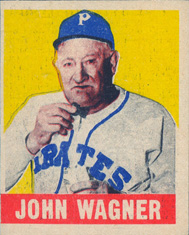 To make the first cut, Wagner substantially beat out a crop of legends that included Napoleon Lajoie, Tris Speaker, Cy Young, Rogers Hornsby and Eddie Collins. In fact, his vote percentage of 95.1% was tied for second with Ruth, just three points below Cobb.
Wagner won eight National League Batting titles and led the NL in both RBIs and Stolen Bases five times. With the glove, he was also exceptional, with a reputation as the best fielding infielder in the game.
To paraphrase Ruth in the Babe Ruth story "At shortstop there is only one candidate, the immortal Honus Wagner. He was just head and shoulders above anyone else in that position."
At the time of his retirement, Wagner held the National League record for hits and was the oldest player to hit a grand slam. Wagner is a member of both the All-Century Team and Major League Baseball's All-Time Team.
Surprising to some, Honus Wagner appeared on over 125 different baseball cards during his player career. While some non-card collectors think that all of his cards are rare, the reality is different. The T206 Wagner is the only one that's a rarity in its respective set. Of course, since the cards that we're discussing are of a legendary ballplayer from over a hundred years ago, they all have considerable value.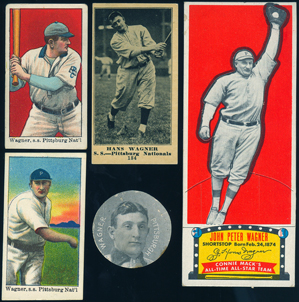 On his baseball cards, Wagner is depicted as either Honus (his professional name), Hans (his nickname) or John (a shortened version of his birth name Johannes).
Wagner's first standard size card appears in the 1903 Breisch-Williams series. If you're a prospective buyer of this drab card of Wagner pictured in jacket and tie, get ready to pony up at least six figures for one in Very Good condition.
Some of the most attractive and more moderately priced Wagner cards appear in the Candy and Caramel issues of the early 1900s. The 1909 E90-1 American Caramel, 1909 E92 Dockman & Sons, 1909 E92 Nadja Caramel and 1915 E106 American Caramel sets have two different Wagner cards in each, with batting and throwing poses while his 1909 E95 Philadelphia Caramel and 1910 E104-2 Nadja Caramels cards have single poses.
While selling in the low four figure range, these cards provide a relatively affordable option for those wanting to add a Wagner to their collections.
The 1914 and 1915 Cracker Jack sets are other reasonably priced alternatives for those wanting to buy a color card produced during his career.
If you have any Honus Wagner baseball cards (produced between 1902 and 1948) to sell or any items on our baseball buy list, PLEASE CONTACT Mark Rubin at 914-725-2225 or via email at mark@amerlegends.com. A quick phone call is all it takes to get started.