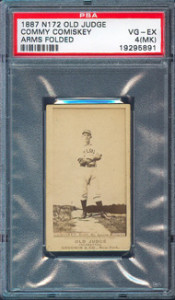 The N172 Old Judge cards may very well be the most important baseball cards ever produced.
Issued by Goodwin & Company between 1887 and 1890, the Old Judge series contains twenty-seven different Hall of Famers.
Included in the series are 19th century legends Cap Anson, Charles Comiskey, King Kelly, Buck Ewing, Connie Mack, Bid McPhee, Pud Galvin, John Carlson and Kid Nichols
In trying to stimulate sales of their Old Judge cigarettes, Goodwin & Company really pulled out the stops.
There are a staggering amount of variations for the five hundred plus subjects.
To complete an Old Judge set, you would need to acquire well over 3,000 variations. In fact, to this day, uncatalogued examples are still being uncovered.
The cards are blank backed and the fronts are sepia-toned. By today's technological standards, the photography is primitive, but the Old Judge series will always be the gold standard for 19th century baseball fans.
If you have any N172 Old Judge baseball cards to sell (either sets, single cards or an accumulation) or any items on our baseball buy list, PLEASE CONTACT Mark Rubin at 914-725-2225 or via email at mark@amerlegends.com. A quick phone call is all it takes to get started.