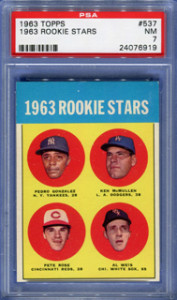 Pete Rose is the most polarizing name in baseball. Hardly anyone is on the fence when it comes to Charlie Hustle. Fans either love him or despise him and both points of view have merit.
Rose's style of play was a throwback to Ty Cobb. He ran to first after bases on balls and was a master of the take-out slide (just ask Bud Harrelson). Although it was originally coined as a derisive term, his nickname Charlie Hustle was well deserved. Rose's fire and desire made him one of the most popular and hated players of his era.
He rarely missed a game, playing in over 150 games in 17 different seasons. Rose managed to stand out on The Big Red Machine, one of the most talent-laden teams the past 50 years.
Even with teammates as talented as Johnny Bench, Joe Morgan, Tony Perez and George Foster, Rose was the focal point of the lineup.
Of course, the anti-Rose crowd would point to his banishment from baseball for gambling and his unrepentant denials for years as large black marks on his record. Other detractors would argue against his overaggressive playing style; leveling Ray Fosse at a play at the plate in the 1970 All Star Game and taking out shortstop Bud Harrelson in the 1973 National League Championship Series (which even today makes him a pariah to many unforgiving Mets fans).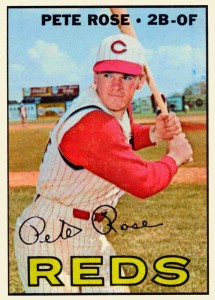 Rose began his major league career in 1963 with the Reds and won the National League Rookie of the Year Award. Over the course of his 16 years with Cincinnati, he won two batting tittles, the 1973 National League MVP and the 1975 World Series MVP.
Rose led the Reds to back-to-back titles in 1975 & 1976 ending the franchise's 35-year dry spell.
After the 1978 season, he left the Reds as a free agent and signed a whopping (for 1979) 4-year, $3,225,000 contract with the Phillies. Just one year later, he willed the perennial losers to their first championship in 97 years of franchise existence (see, there's hope Cub fans).
Rose's first baseball card appearance is card #537 in the 1963 Topps Baseball series. He shares his rookie card real estate with Pedro Gonzalez, Al Weis and Ken McMullen. Rose was a regular on Topps base cards through 1989 (the last few years as Reds' manager) and was almost always selected on inserts and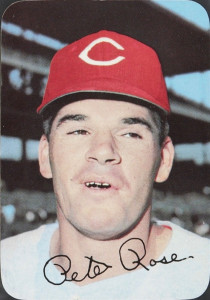 test issues.
Starting with the 1964 Topps Coins, Rose appears in the 1966 Topps Rub-Offs, 1967 Topps Punch-Outs, 1967 Topps Stand-Ups, 1968 Topps Action All-Star Stickers, 1968 Topps Plaks, 1968 Topps Game, 1969 Topps 4 in 1, 1969 Topps Super, 1969 Topps Stamps, 1971 Topps Greatest Moments and 1973 Topps Candy Lids just to name a few.
His cards in each of these insert and test sets are among the most valuable ones produced.
In fact, just prior to his ban from baseball in 1989 by Bart Giamatti, Rose was THE most sought-after active player in baseball card collecting. Rose broke Ty Cobb's lifetime hit record in 1985.
The lead up to the record put Rose on the very top of collector's lists since the turn of the decade. It was on September 11, 1985, when Rose singled off the Padres' Eric Show for hit number 4,192, shattering Ty Cobb's unbreakable mark.
While Rose's legacy is still up for grabs, his accomplishments are undeniable. He still holds the National League Hit Streak record at 44 games, was an All-Star at four different positions and finished his career with an astounding 4,256 hits.
Love him or hate him, Pete Rose will never be forgotten.
If you have any Pete Rose baseball cards (produced between 1963 and 1970) to sell or any items on our baseball buy list, PLEASE CONTACT Mark Rubin at 914-725-2225 or via email at mark@amerlegends.com. A quick phone call is all it takes to get started.