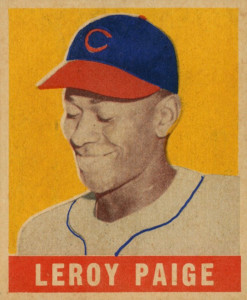 Because of segregation, Leroy Satchel Paige didn't break into the major leagues until he was 41 years of age.
He pitched until he was 46 and even came back twelve years later  to throw an inning for the Kansas City A's.
Previously, Paige was one of the biggest stars of the Negro Leagues, excelling for almost twenty seasons for the Birmingham Black Barons, Pittsburgh Crawfords and Kansas City Monarchs (with Jackie Robinson).
Barnstorming in the 1930s, Paige gained notoriety with white audiences while attracting huge crowds. His incredible fastball was heralded by major league legends such as Bob Feller, Joe DiMaggio and Dizzy Dean. In fact, after an exhibition game in Oakland, DiMaggio called Paige the best pitcher he ever saw.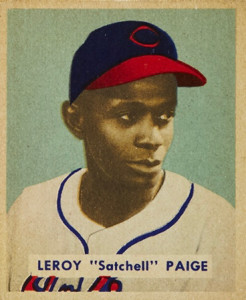 Though his major league career was brief, his legacy as a superstar of the Negro Leagues led to Paige being inducted into the Baseball Hall of Fame in Cooperstown as the first Negro League player.
Paige's baseball cards are extremely elusive. He only appears on the 1948 Leaf #8, the 1949 Bowman #224 and the 1953 Topps #220. All three are fairly difficult to obtain and are prized by collectors.
His 1948 Leaf card is very short printed and extremely difficult to find, commanding $10,000 even in mid grade. It's clearly one of the rarest post-war baseball cards in existence.
Paige's 1949 Bowman card is part of the scarcer high-number series and is valued at $3,000 in Near Mint condition. Bowman incorrectly added a second "L" to Satchel but never corrected their error.
Paige was conspicuously absent from Topps and Bowman in 1950, 1951 and 1952 but made his last cardboard appearance in the 1953 Topps set.
Only three cards for a star of his magnitude assures that strong demand these cards will always exist. Like Satchel famously said "Don't look back. Something may be gaining on you."
If you have any Satchel Paige baseball cards (produced between 1948 and 1967) to sell or any items on our baseball buy list, PLEASE CONTACT Mark Rubin at 914-725-2225 or via email at mark@amerlegends.com. A quick phone call is all it takes to get started.