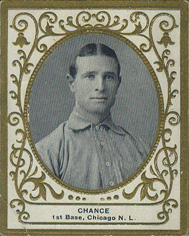 The 1909 Ramly Baseball Cards are literally framed masterpieces. The design features a beautiful ornate gold frame superimposed on a black and white player portrait. The cards were printed on very light stock and were available in packages of Ramly Turkish Cigarettes and T.T.T. Natural Turkish Cigarettes. More square than rectangle, with an embossed front, the Ramlys differ from most tobacco cards of the era.
Even though here are 121 cards in the Ramly set, the set only contains just 15 Hall of Famers, a low proportion by Tobacco Era standards. HOFers include Chief Bender, Roger Bresnahan, Mordecai Brown, Jesse Burkett, Frank Chance, Ed Collins, Jimmy Collins, Johnny Evers, Clark Griffith, Miller Huggins, Walter Johnson, Willie Keeler, Eddie Plank, Joe Tinker and Bobby Wallace.
The Ramly cards are reasonably scarce compared to the other early T-card sets and are valuable, even in lower grades. The cards come with either Ramly backs or the tougher T.T.T. backs.
Additionally, six cards are available with a square frame around their portrait in addition to the typical oval frame. The square frame cards command a significant premium over their oval counterparts. The variations exist for John Anderson, Frank Bancroft, Kitty Bransfield, Jesse Burkett, Bill Dineen and Pat Moran.
If you have any T204 Ramly baseball cards to sell or any items on our baseball buy list, PLEASE CONTACT Mark Rubin at 914-725-2225 or via email at mark@amerlegends.com. A quick phone call is all it takes to get started.