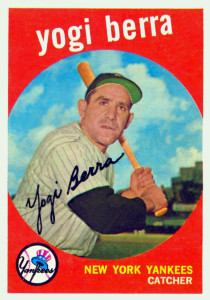 When people hear the name Yogi Berra, many things will leap to mind; His Yogi-isms such as "It ain't over till it's over," "When you come to a fork in the road, take it" or "It's deja vu all over again."
Some will recall his amazing playing career replete with three American League Most Valuable Player Awards and ten World Series rings.
Other confused souls, will think of Jellystone Park and his sidekick Boo-Boo (sorry, that would be Yogi Bear).
During his career, the diminutive catcher was the quintessential winner for the Yankees. Although he was featured in the 1947 Bond Bread, Exhibit, Sports Exchange Mini & Tip Top Bread sets, his 1948 Bowman card (#6), is acknowledged as his true rookie card. Appropriately, the 1948 Bowman card is short and squat just like Berra.
As one of baseball's most familiar faces, Berra was featured by literally every baseball card manufacturer in the 1950s; Armour Coins, Berk Ross, Bowman, Drake's, New York Journal American, Red Man Tobacco, Star-Cal, Tip Top Bread, Topps, Wheaties and Yoo Hoo. Yogi's popularity continued up until his last card as a player, the 1965 Topps.
Both Topps and Bowman incorporated his sidekick, Mickey Mantle into multi-player cards to capitalize on the duo's notoriety. The 1953 Bowman Color #44 Bauer/Berra/Mantle and the 1957 Topps #407 Yankees' Power Hitters are two of the most popular cards of the decade.
When Yogi's playing career concluded, Berra's manager cards with the Mets, Yankees and Astros were staples of Topps' releases.
If you have any Yogi Berra baseball cards (produced between 1947 and 1965) to sell or any items on our baseball buy list, PLEASE CONTACT Mark Rubin at 914-725-2225 or via email at mark@amerlegends.com. A quick phone call is all it takes to get started.