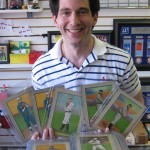 May and June was a two month buying extravaganza for American Legends.
In the eight week period, we picked over a dozen quality collections. Included in this grand haul were a lot of 122 T3 Turkey Red Cabinets including two Ty Cobb, three Walter Johnson, Christy Mathewson, Tinker, Evers, Chance and many, many more.
Another deal featured 196 T202 Hassan Triple Folders including eleven Ty Cobb cards, six Christy Mathewson and a boat load of other Hall of Famers.
Next up was a lot of almost 80 cards from the early 1900s. This consisted of T201 Mecca Double Folders, T202 Hassan Triple Folders, T204 Ramly with several of the scarce T.T.T. backs, E97 Briggs Company and a small grouping of boxing cards including some tough ones of Jack Johnson.
Another seller came in with almost 150 PSA Graded cards from 1952 & 1956 Topps, all of them graded as eights.
And one of my favorites was a spectacular collection from a delightful older couple. They had amassed a run of Topps, Bowman, Fleer, Red Man & Kelloggs baseball sets from 1948 to 1987, including many tough regional issues. The condition was superb and some of the great odd ball sets included the 1967 Topps Red Sox Stickers, 1964 Topps Stand-Ups and a super sharp 1959 Fleer Ted Williams Set.