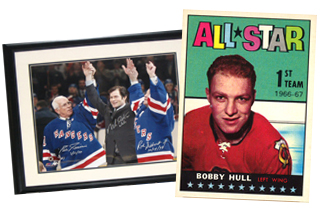 Since 1992, American Legends has strived to provide hockey card and memorabilia collectors the best selection of products in New York.
With Topps and Parkhurst hockey single cards stretching back to the early 1950s, the store has cultivated a very loyal customer base of vintage card buyers.
American Legends is well stocked in vintage stars like Orr, Howe, Hull & the Esposito brothers. Our modern singles inventory includes the likes of Gretzky, Lemieux, Crosby & Ovechkin along with a large assortment of game-used jersey and certified autographed cards.
Along with our inventory of hockey single cards, American Legends carries almost every new hockey release from Upper Deck and In The Game. All of your favorite unopened hockey packs and boxes are here including Between the Pipes, Black Diamond, SPX, Sweet Shot, Trilogy and many more.

Looking for a gift for a hockey fan? American Legends is the source for autographed hockey memorabilia. Whether its our exclusive Mike Richter /Ed Giacomin /Rod Gilbert signed photo, a Brodeur or Gretzky puck or a Bobby Orr signed photo, we have what youre looking for.
Our signed hockey memorabilia includes Henrik Lundqvist, Adam Graves, Brian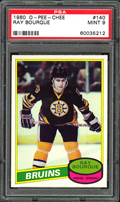 Leetch, Mark Messier, Mike Bossy, Dom Hasek and even Eddie Shore. Concerned about authenticity? So are we. Thats why our autographed items are from our own in-store player appearances as well as items that we witnessed being signed. We also sell items from reputable sources including Upper Deck Authenticated (UDA), Mounted Memories and Steiner Sports. Vintage items are authenticated by James Spence (JSA) or by PSA/DNA.
Of course, no full-service store would be complete without a full line of collecting supplies. American Legends has a vast array of items to care for your hockey collectibles including

Ultra Pro card binders, plastic sheets, cardboard and acrylic storage boxes, top-loaders, one-touch holders and acrylic display cases for pucks. We even offer custom framing for your prized collectibles.
The bottom line is, if youre looking for hockey cards and memorabilia, visit American Legends today.