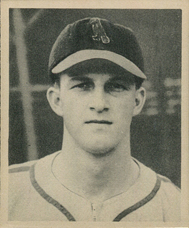 Though not a beautiful set by modern card collecting standards, the 1948 Bowman Baseball card release is still a groundbreaking issue. The inaugural issue for the Bowman company, the 48-card series is black and white and relatively small at 2 1/16 by 2 1/2 inches.
What Bowman lacked in aesthetics, it makes up in star power. It contains the rookie cards of nine different Hall of Famers; Ralph Kiner #3, Johnny Mize #4, Bob Feller #5, Yogi Berra #6, Phil Rizzuto #8, Enos Slaughter #17, Warren Spahn #18, Stan Musial #36 and Red Schoendienst #38.
The set does lose style points and popularity with four glaring omissions; Jackie Robinson, Satchel Paige, Ted Williams and Joe DiMaggio. None of the four legends appear in the set even though they each have cards in the 1948 Leaf Baseball. All four Leaf cards are extremely desirable and quite valuable.
The set is quite heavy on the New York teams, with a large portion of the set devoted to the Yankees, Dodgers and Giants. All in all, while deficient in some areas, the 1948 Bowman set is solid debut by Bowman. Their next few baseball sets would grow in content and size and for a brief period they would lock up three of the game's greats with exclusives deals (Ted Williams, Mickey Mantle & Stan Musial).
Bowman would be a force to reckon with until Topps finally knocked them out eight years later.
If you have any 1948 Bowman baseball cards (either sets, singles or an accumulation) to sell or any items on our baseball buy list, PLEASE CONTACT Mark Rubin at 914-725-2225 or via email at mark@amerlegends.com. A quick phone call is all it takes to get started.