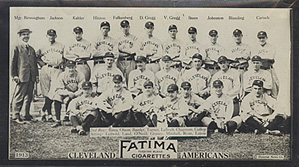 1913 T200 Fatima Team Cards are 2 5/8 by 5 13/16 inch glossy black and white cards featuring a black border frame around the edges.
Included in packages of Fatima Turkish Blend Cigarettes, eight teams are featured from each the National and American Leagues.
The National League cards include Boston, Brooklyn, Chicago, Cincinnati, New York, Philadelphia, Pittsburgh and St. Louis.
The American League has Boston, Chicago, Cleveland, Detroit, New York, Philadelphia, St. Louis and Washington.
Some of the major stars of the era are portrayed on the cards, but these gems fly below the radar of many collectors.
Some notable examples include cards of Shoeless Joe Jackson & Napoleon Lajoie (Cleveland), Walter Johnson (Washington), Tris Speaker (Boston A.L.), Grover Cleveland Alexander (Philadelphia N.L.), Christy Mathewson (New York N.L.), Ty Cobb, Sam Crawford & Hugh Jennings (Detroit), Honus Wagner & Fred Clarke (Pittsburgh) and Connie Mack & Eddie Plank (Philadelphia A.L.).
Because of the glossy fronts which have a metallic quality and the plain paper backs, the cards have a tendency to be slightly concave in shape.
The backs of the cards include a mail-in offer from Liggett & Myers Tobacco Company for an enlarged copy of each card in size 13 x 21. These larger-size versions come without any Fatima advertising and are extremely difficult to find.
Very collectible in any grade, the T200 Fatima team cards are an unheralded treasure.
If you have any T200 Fatima Team baseball cards to sell or any items on our baseball buy list, PLEASE CONTACT Mark Rubin at 914-725-2225 or via email at mark@amerlegends.com. A quick phone call is all it takes to get started.