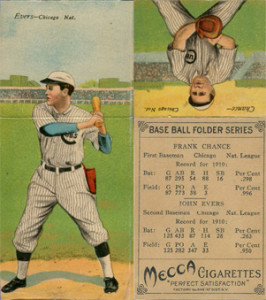 The T201 Mecca Double Folders, produced by the American Tobacco Company in 1911, utilize an innovative design that was later copied by Topps for their 1955 Double Headers. The T201 cards were folded and issued in packages of Mecca cigarettes.
In it's original state, the folded over card features a particular major league baseball subject, but when the top half is extended and folded back, it reveals a different subject that shares the same lower portion of the card. Both players' biographies and statistics are featured on the back of the cards.
An example of a card that has been folded back is provided on this page with both the obverse and the reserve pictured.
The T201s have a distinctive matte finish which works well to soften the beautiful soft pastel colors of the cards. Due to the comparatively primitive cutting methods of the era, some of the cards exhibit varying degrees of skewing. One hundred players are featured in the set which contains fifty cards (not the hardest math to compute).
Some of the most sought-after cards in the series are those portraying multiple stars. The Ty Cobb and Sam Crawford, Frank Baker and Eddie Collins, Roger Bresnahan and Miller Huggins & Frank Chance and Johnny Evers' cards (pictured above) supply collectors with a double dose of baseball Hall of Famers.
The T201 design is the natural forerunner to the following year's T202 Triple Folder format. Still a bargain by today's standards, these cards provide a window to the national pastime from over a century ago.
If you have any T201 Mecca Double Folder cards to sell or any items on our baseball buy list, PLEASE CONTACT Mark Rubin at 914-725-2225 or via email at mark@amerlegends.com. A quick phone call is all it takes to get started.