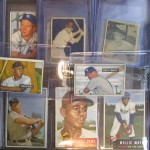 Just picked up a beautiful collection. Contained are thousands of cards from the 1950?s. Among the sets represented: 1948 Bowman Baseball, 1949 Bowman Baseball, 1950 Bowman Baseball, 1951 Bowman Baseball, 1952 Bowman Baseball, 1953 Bowman Baseball Color & Black and White, 1951 Topps Red and Blue Backs, 1952 Topps Baseball, 1953 Topps Baseball and more.
Plus there is a bevy of early Bowman Football cards from 1948-1952 as well as the landmark 1951 Topps Ringside Boxing
Among the key cards in the collection are the 1951 Bowman Mickey Mantle and Willie Mays, 1952 Bowman Mickey Mantle and Willie Mays, 1951 Ringside Rocky Marciano, 1951 Bowman Tom Landry and many many more.